Hi Allan,
Sorry for the topic spam, but the old one closed automatically while I was on vacation.
Coming back on the issue, I have now used the chromium image you recommended in my config.
But when trying to use the undetected_chromedriver package to run selenium I still run into an issue I cannot recreate on my own pc. This is the log of the error: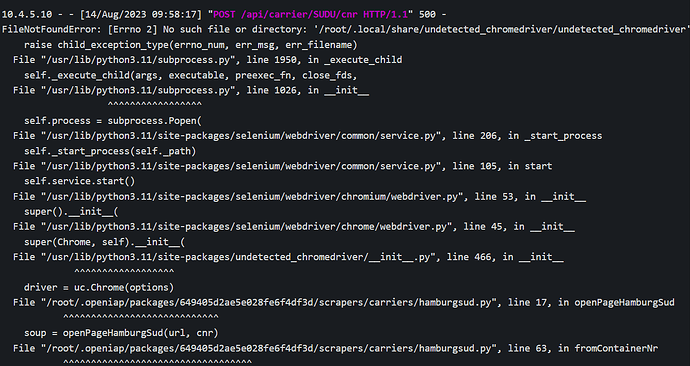 I found a similair issue on the github of the package: UC(3.4.6) No such file or directory: '/root/.local/share/undetected_chromedriver/undetected/chromedriver' · Issue #1156 · ultrafunkamsterdam/undetected-chromedriver · GitHub
I'm not sure if I could find the path to the chromedriver that is installed through the docker image.
It would be great if we could run undetected_chromedriver as the driver as it allows for easy headless execution. If not, could you maybe provide an example of how you would use selenium on the image?
Thanks in advance.